A la carte MENU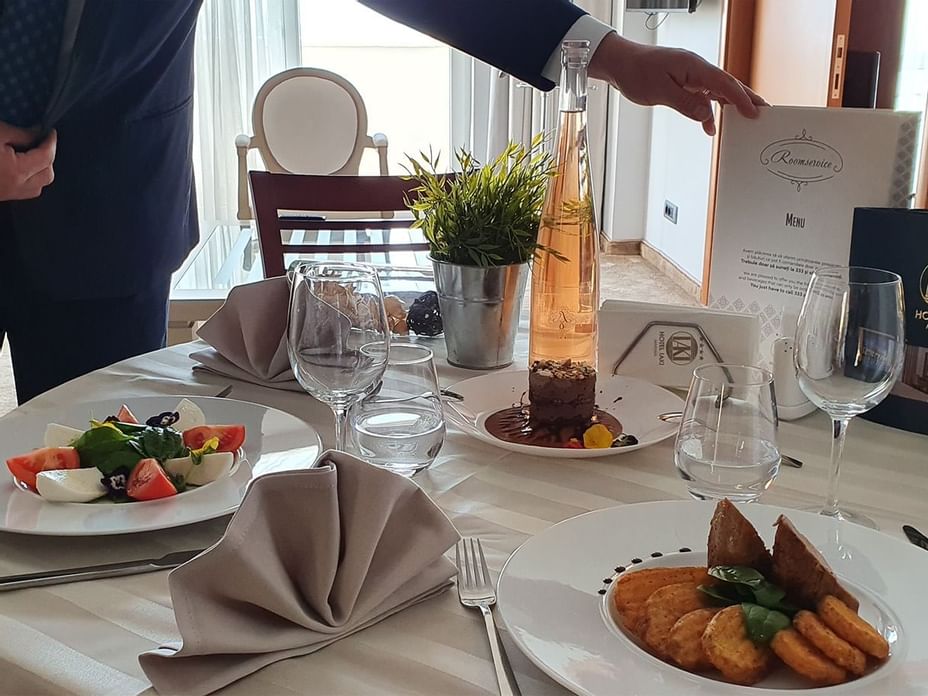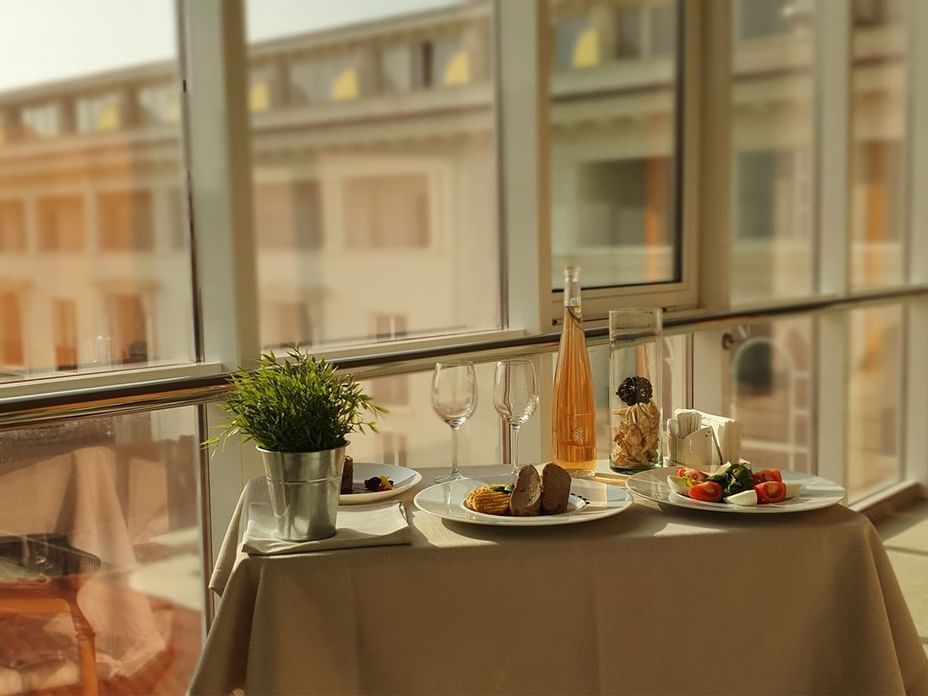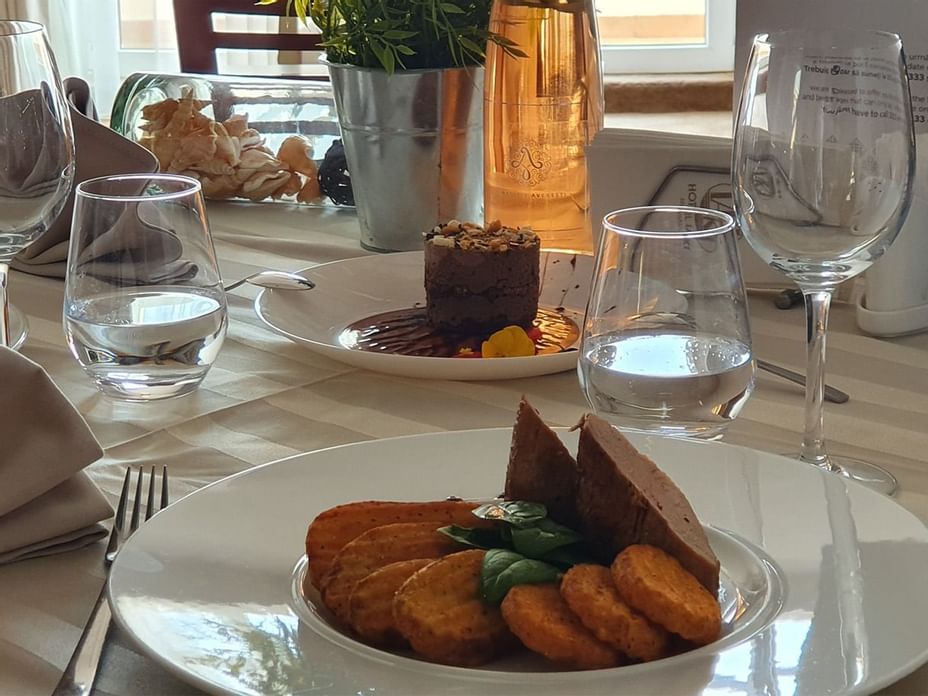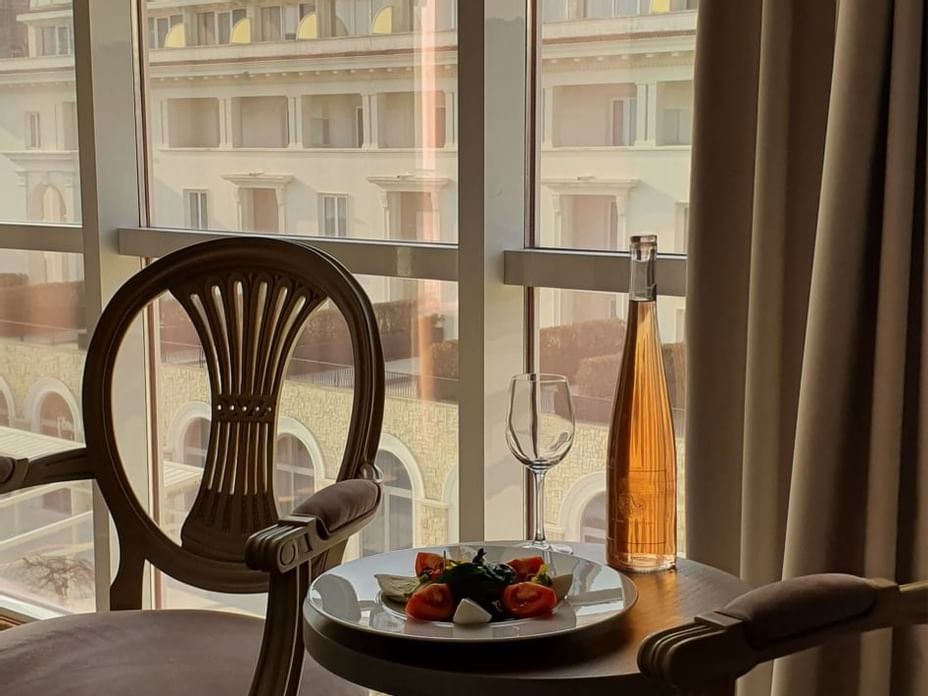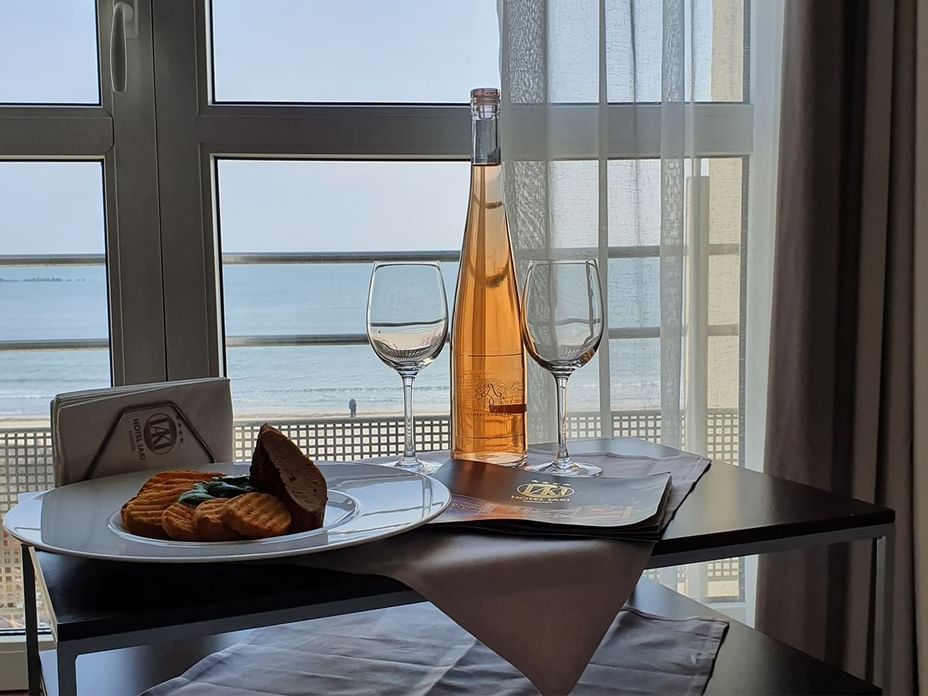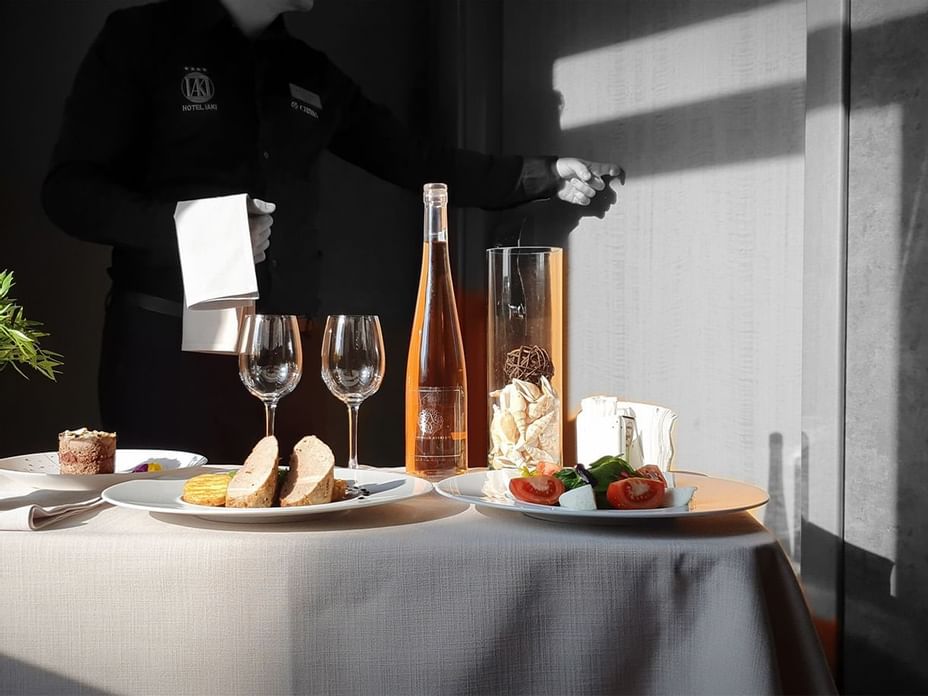 Program Lunch 12:00 - 14:30 Dinner 18:30 - 22:30
---
The service time for grilled, baked and fried dishes varies between 30-45 minutes.
Thank you for your understanding!
Last order at 23:30 hours.
Thank you! COLD APPETIZERS
---
Beef carpaccio with rucola and parmesan *M, L 100 gr. 60 Lei
---
Salmon marinated in house with horseradish cream cheese *L, M, J 150 gr. 55 Lei
---
Assorted cheese platter Parmesan, Blue Cheese, Emental, Brie, bocconcini, apple, grapes *L, G, N 300 gr. 45 Lei
---
"Athina" Appetizer *L 280 gr. 50 Lei
Bresaola beef, Bocconcini, Prosciutto Coppa, cherry tomatoes, marinated artichokes
---
"Caprese" Appetizer *L,G,N 250 gr. 35 Lei
Bocconcini, mix salad, tomatoes, pesto sauce, bread croutons
---
Summer platter for 2 persons *L, G 650 gr. 60 Lei
Eggplant salad, roasted peppers, sheep cheese, feta cheese, humus, red onion,
Kalamata olives, tomatoes
---
CREAM SOUP
---
Mushroom cappuccino *L, G 250 gr. 25 Lei Cream of baked peppers with mozzarella *L, K, G 250 gr. 22 Lei Soup of the day
---
SALADS
---
Beef tenderloin salad *G, B, M, L 300 gr. 48 Lei Beef tenderloin, salad mix, parmesan, cherry tomatoes, lemon dressing, croutons, green pepper
---
Duck brisket salad *L, H, G, M, F, N 300 gr. 38 Lei
Duck brisket, salad mix, goat cheese, cashew nuts, cherry tomatoes, sesame, green pepper,
lemon dressing
---
Salmon salad *J, L, G, M, F 300 gr. 40 Lei
Gravlax Salmon avored with anise, salad mix, cherry tomatoes, cream cheese, cucumber,
avocado
---
Kobb salad *G, L, F, M, J 300 gr. 32 Lei Grilled Chicken breast, egg, blue cheese, avocado, peppers, anchovy dressing, salad mix,
croutons, cherry tomatoes, pumpkin seeds
---
Rucola salad with cherry tomatoes and parmesan *L 200 gr. 25 Lei
---
PASTA
---
Cappelletti with prosciutto and dried tomatoes *F, L, G 300 gr. 50 Lei
---
Tagliatelle cu muşchi de vită *G, F, L 300 gr. 55 Lei
Tagliatelle with beef tenderloin
---
Spaghete Carbonara *G, L, F 300 gr. 33 Lei
Spaghetti Carbonara
---
Penne Quatro Formaggi *G, F, L 300 gr. 35 Lei
Penne Quatro Formaggi
---
ANTREURI CALDE HOT STARTERS
---
Orez negru cu creveţi şi trufe *C, L 200 gr. 49 Lei
Black rice with shrimps and trufes
---
Caracatiţă cu sos de citrice *C, E, L 100/50 gr. 70 Lei
Octopus with citrus sauce
---
Creveţi cu sos de unt şi lămâie cu oregano *C, E, L 120/30 gr. 60 Lei
Shrimps with butter sauce and lemon with oregano
---
Calamar la grătar *E 150 gr. 40 Lei
Grilled squid
---
Creveţi la grătar *C 150 gr. 60 Lei
Grilled shrimps
---
PEŞTE
FISH
---
Doradă la plită cu Julien de legume cu susan *J, K, L 150 gr./100 gr. 70 Lei
Grilled Bream with Julien vegetables and sesame seeds
---
Biban la plită cu Julien de legume cu susan *J, K, L, H 150 gr./100 gr. 75 Lei
Grilled Sea Bass with Julien vegetables and sesame seeds
---
Somon la plită cu orez negru şi sos vinegretă *J, L 150 gr./100 gr. 65 Lei
Grilled Salmon with black rice and sauce vinaigrette
Ton roşu în crustă de susan *J, K, L, N
---
Ton roşu în crustă de susan
cu legume mirepoix 150 gr./100 gr. 90 Lei
Sesame-crusted Bluen tuna with vegetable mirepoix
---
Platou fructe de mare pentru 2 persoane *C, E, L, J 700 gr./500 gr. 400 Lei
Creveţi, caracatiţă, biban de mare, calamar, somon, broccoli, orez negru
Sea Food Platter for 2 persons
Shrimps, octopus, sea bass, calamari, salmon, broccoli, black rice
---
PREPARATE PRINCIPALE
MAIN DISHES
---
Magret de Canard *L 150 gr./100 gr. 70 Lei
Piept de raţă cu chutney de mere
Duck breast with apple chutney
---
Confit de Canard - Pulpă de raţă confiată *L 180 gr./80 gr./20 gr. 58 Lei
Servit cu gratini de cartofi, piure de castane şi mix salată
Duck confit with gratin potatoes, cheestnut puree, salad mix
---
Scăriţă de porc barbeque *M, B 400 gr./150 gr. 45 Lei
Servită cu cartofi condimentaţi
Barbeque pork ribs served with spicy potatoes
---
Muşchiuleţ de porc în crustă de muştar *M, J, L 150 gr./100 gr. 48 Lei
Servit cu piure de cartofi tartufat
Mustard-crusted pork tenderloin served with trule mashed potatoes
---
Cotlet de miel in crusta de ierburi *L, G, N 200 gr./150 gr. 69 Lei
Servit cu cartofi gratinaţi
Lamb chops served with gratin potatoes
---
Muşchi de vită în crustă de măsline *L, N 150 gr./100 gr. 130 Lei
Servit cu sote de anghinare
Olive-crusted beef tenderloin served with artichokes
---
Piept de pui Funghi *L, G, N 150 gr./100 gr. 39 Lei
Cu sos de smântână cu ciuperci Porcini şi migdale
Chicken breast with cream sauce and mushrooms, almonds
---
Rib eye steak 250 gr. 140 Lei
---
T bone Steak 300 gr. 120 Lei
---
GARNITURI
GARNISHES
---
Orez negru cu trufe *L 100 gr. 17 Lei
Black rice with trufles
---
Gratin de cartofi *L 80 gr. 12 Lei
Potatoes gratin
---
Piure de cartofi tartufat *L 100 gr. 17 Lei
Trufle mashed potatoes
---
Cartofi condimentaţi 150 gr. 12 Lei
Herbs mashed potatoes
---
Broccoli la aburi *L 150 gr. 12 Lei
Steamed broccoli
---
DESERT
DESSERT
---
Platou cu asortiment de fructe - (vegetarian) 450 gr. 29 Lei
Assortment of fruit platter - (vegan)
---
Prăjitură cu ananas 100 gr. 20 Lei
cu ciocolată albă şi ananas caramelizat *G, N, L
Jolie cake with meringue crust and nut with cocoa cream
---
Îngheţată Haagen Dazs *L, F, G 150 gr. 29 Lei
Haagen Dazs ice cream
---
Îngheţată Gheorghe Hagi *L, F, G 100 gr. 30 Lei
Îngheţată de vanilie Haagen Dazs cu espresso Diemme
Gheorghe Hagi ice cream
Haagen Dazs Vanilla ice cream with Diemme espresso
---
Sorbet Haagen Dazs *F 150 gr. 29 Lei
Haagen Dazs sorbet
---
Lava cake cu îngheţată de vanilie *L, F, N, G 120/50 gr. 25 Lei
Chocolate cake with vanilla ice cream
---
Vă rugăm solicitaţi şi păstrati bonul scal pană la ieşirea din restaurant, conform prevederii
OG. 28 / 1999.
Dear guests, please ask the receipt and keep it until you leave the restaurant, according to
OG. 28 / 1999.
---
ALLERGENS A. Peanuts B. Soya
C. Crustaceans (crabs, lobsters, craysh, shrimps)
D. Sulfur dioxide and sulphites (at a concentration of less than 10 ppm)
E. Molluscs (mussels, oysters, calamari)
F. Eggs
G. Gluten, grains containing gluten (wheat, rye, barley, oats or hybrid)
H. Sesame seeds
I. Lupin
J. Fish
K. Celery
L. Milk, Butter
M. Mustard
N. Nuts (almonds, hazelnuts, walnuts, cashews, Pecans nuts, Brazil nuts, Macadamias nuts,
pistachios)
* If you are intolerant / allergic to an ingredient, before ordering any dish, check the list of
contained ingredients and / or ask the waiter.